Sterilization, Insect Control and Herbal Dyes
Japanese Green Gentian
Japanese green gentian is also known as "toyaku" in Japanese, which literally means something like "effective medicine". Its bitterness and effectiveness as a remedy for stomachaches is well known.
What is less widely known is that dying underwear in a brew made from this plant gets rid of fleas and lice. These are no longer a problem nowadays, but the protection it gave against insects was important to the ninja.
Chinese Cork Tree
The bark of this tall tree was boiled to make a dye. Paper dyed in it would not be eaten by insects, and would have been useful to the ninja for preserving important documents.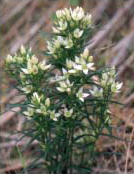 [Japanese Green Gentian]


[Chinese Cork Tree]